I don't know where to start. What can I do?

The recent attack at the Boston Marathon is terrible and despicable and our thoughts and prayers are with all of those affected. The attack has garnered a lot of attention for many reasons, including how rare and unexpected it was.
Terrorist attacks on U.S. soil have a counterintuitive affect on its people. Instead of instilling fear and recreant reactions they tend to inspire unity, strength and resolution. Take, for example, the Boston Bruins opening ceremony, which was the first major sporting event in Boston following the attack:
Does that sound like a people that have been terrorized? A people that have been shaken in what they believe in? Ah, on the contrary. It is the rekindling of the zealous spirit that all Americans share -- the pride and joy of standing united, despite our (many) differences, in opposition to those who envy our freedom. An echo of the same invigorated spirit we all shared in the aftermath of the 9/11 attacks.
But why? Why do terrorist attacks have this positive affect on Americans? One of the many reasons is that because we have a government that, while often taken for granted, seeks immediate justice for unjust acts.
Yes, we will find you. And yes, you will face justice. We will find you. We will hold you accountable. But more than that, our fidelity to our way of life, for a free and open society, will only grow stronger, for God has not given us a spirit of fear and timidity, but one of power and love and self-discipline.

President Obama, 4/18/2013
Obama's mention of the
Timothy verse
resonates so profoundly with how our Lord teaches us to react to those who wish harm upon us. We stand fearless because of God's spirit within us and we act in a powerful, yet loving and self-disciplined way.
Unfortunately, this same reaction is profoundly more difficult when one doesn't have this same level of support and unity from his/her elected official. And even more difficult when these officials all but publicly condone such acts.
St. Mark's Cathedral, holiest site for Egypt's indigenous Christians turned into a war zone. Source.
On Sunday April 7th, 2013, Coptic Christians were terrorized at St. Mark's Cathedral in Egypt after a funeral service mourning the killings of
recent victims
of religious violence in the area. Muslim extremists threw rocks at the Copts who were angry and protesting coming out of the funeral. Police soon arrived on the scene, which actually made matters even worse. Eye witness, Amir Ramzi explains:
So [we retreated back into the cathedral], thinking police would come to protect and separate the clashers. We were surprised to find that the police began to intervene and become another party to the conflict, attacking the Copts who were fighting back against the [Muslim] youth who were attacking them, and shooting gas bombs into the cathedral compound, which caused extreme poisoning, to the point that the ambulance cars were not enough to take the sick. Source.
You can read more about what really happened on that day in
Raymond Ibrahim's report here
. Also view
photo evidence of the public condoning of the violence by Egyptian officials here
.
Recently, His Grace Bishop David organized a public prayer service at St. Patrick's Cathedral in New York to pray for the victims of both the Boston bombings and the Christian persecution going on in Egypt right now. I was discouraged to see that a
Google News search for some level of coverage
of the historical event turned up no real results. It seems the only coverage were a
few tweets
and some announcements by participating churches.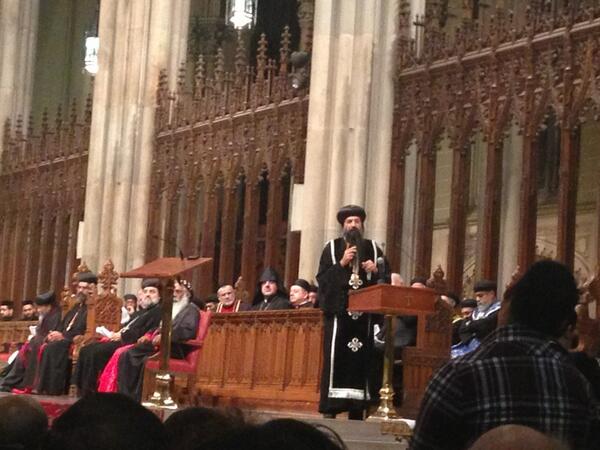 His Grace Bishop David at the April 21st Prayer Service
It was a beautiful service that I hope will help shed more light on the atrocities that are happening right now in Egypt. HG Bishop David implored both the U.S. Government (
which contributes $1.5bn in aid annually to Egypt
) and the "elected" Egyptian Government to protect the indigenous Christian population -- which unfortunately has enacted
a constitution full of holes
that all but allow for the suppression of Christians and other non-Islamic religions in the country.
As Copts and as Christians we stand together (with the gracious support of our sister churches) in united prayer as we beseech the Prince of Peace, our Lord Jesus Christ to deliver His people from the hand of the persecutors and that He open the eyes of those
born blind
.
So I asked myself, where do I start? What can I do?
At the very least, I can help spread the word. At the most, I can pray. And I can ask you to do the same. God bless you and God bless the people of Egypt.
But I say to you, love your enemies, bless those who curse you, do good to those who hate you, and pray for those who spitefully use you and persecute you, that you may be sons of your Father in heaven;

Matthew 5:44,45